NZ Ladies Rifle Team South Africa Report 3
Today we travelled to Bloemfontein, braving the fast paced South African traffic, speed limit is 120km per hour and it seems to be only a guide. We were surprised to see traffic cops hiding in the bushes with their speed cameras and jump out onto the road to stop cars, all a bit crazy. Slower traffic move over to the side of the road to let the faster cars past. Some cars coming up behind us extremely fast. Once we were out of Johannesburg there were long straight roads, the odd turn and twist. We stayed on the same road for hundreds of miles.
We drove past some very poor looking shanty towns all with solar powered hot water cylinders which looked out of place. There were huge expanses of flat grasslands as far as the eye could see, fields of corn and sunflowers. We saw cows and a few sheep but there wasn't many animals grazing these areas. We saw two Ostrich which looked like they could have been pets, but no other 'wildlife'.
Once we arrived in Bloemfontein Car 1 missed a turn off and we found ourselves temporarily 'lost'. Having taken the wrong turn off Car 1 unintentionally ran through a huge puddle and drenched a mother and two young girls walking down the foot path. We heard their screams just in time to see Car 2 run through the same puddle and drench them some more. Oops!
We ended up in a seedier part of town described by Nicole as a ghetto. There were people everywhere. We assumed there must have been a sporting event on because some people were wearing either yellow or green and were blowing horns. The streets had rubbish everywhere and we drove through a market area with people milling around on the road, we dared not take any photos. We won't be going down to that end of town again.
We arrived at our accommodation the Horizon Stables to be met by Bella the Great Dane, part of the 'protection/security system', she's a bit over friendly and we have been told not to feed her. We are still getting used to the high fences, barbed wire, big fierce looking guard dogs (which look like they would rip your leg off, unlike Bella) and security systems which surround the houses.
Our rooms are gorgeous, and we are sharing a kitchen area with the Australian Ladies who arrive in a couple of days. The team had a nice dinner together at the accommodation and it was then off to get some sleep.
Tomorrow, Easter Monday we do some shopping for food and it's off to the range have a look see and check our entry forms.
Karyn Flanagan
Team Manager

Grasslands

Shanty town with solar water cylinders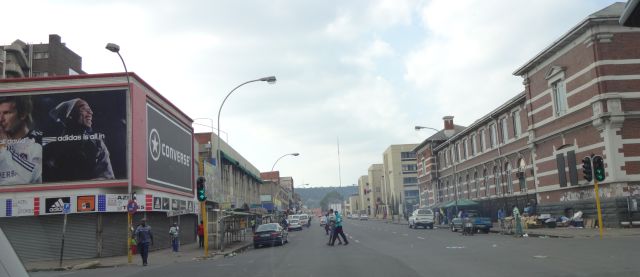 Down by the ghetto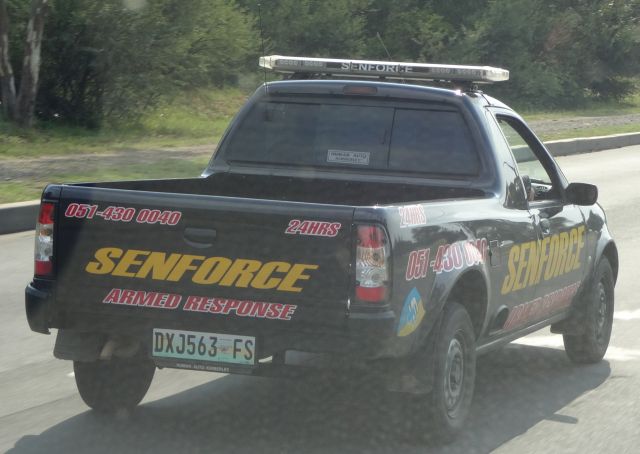 Armed response car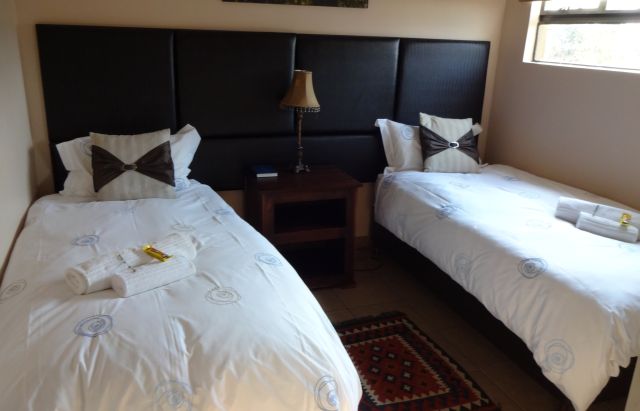 Karyn and Nichole's room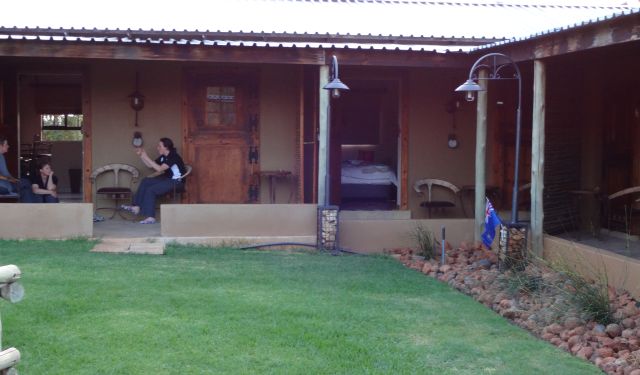 Karyn and Nichole's room