2017 Taranaki Championship
Despite a weather forecast of heavy rain for the whole weekend, we managed to get through our scheduled programme almost without a hitch. We were an hour late starting on Saturday due to technology issues, but once that was solved we caught up the time in no time, and enjoyed a hot, humid, sunny day. Was a bit soggy underfoot, but no cars were seriously bogged.
We had the same number of shooters this year as last year, and we were pleased to host two Tyro shooters (Caitlin Carter and Ian Stirling) who took part in their first Championship meeting - welcome to the game!
With the soggy conditions underfoot, our programme was changed to a double 300 and double 600 on the Saturday to reduce pugging up the paddocks any further.
Shooting conditions were fairly benign with little wind and some overcast at times. Scores were close throughout the day in each grade, but only 3 possibles were shot in TR.
Brian Carter led the A grade, with Paul Tidswell close behind; B Grade saw John Ball lead the way with a two point advantage going into the second day. Barry Geange in the C Grade had a clean sweep, and the Tyro shooters shooting in this grade as well achieved creditable efforts for their first time up.
The usual close competition in FTR and FO was evident with Paul Neilson and Ivan Hastings battling it out; Nik Chiew and Ian Hughes continued their usual ding-dong battle, with Nik dropping only one point on the first day.
Sunday shooting started on time with drizzly conditions at 1000 yards. Otorohanga have this issue solved by erecting gazebo-type protection for the shooters. The weather improved during the day, and there were no delays, with the full programme completed just after lunch.
No possibles were shot at 1000 yards, but Paul Tidswell went close, dropping his last shot for a 74.8, and Ian Hughes also went close in FO with an 89.6. Ross Geange, unavailable on Saturday, kept the A grade up to their best, winning Day 2.
Brian Carter was the winner of the Taranaki Championship Belt for 2017, with a 3 point margin over Paul Tidswell; John Ball and Dave Miller comfortably won their grades, and Paul Neilson prevailed in the FTR. Nik Chiew had a nail-biter beating Ian Hughes by two centrals.
A good weekend of shooting, and many thanks to the Otorohanga team for arranging and staging everything, including the weather.
We now look forward to organising our 150th Annual Championship next year.
Alan Drake
Secretary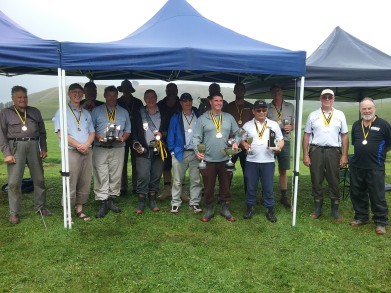 ;