Haddon Donald's "Double Possible" Happy 100th Birthday 20/3/2017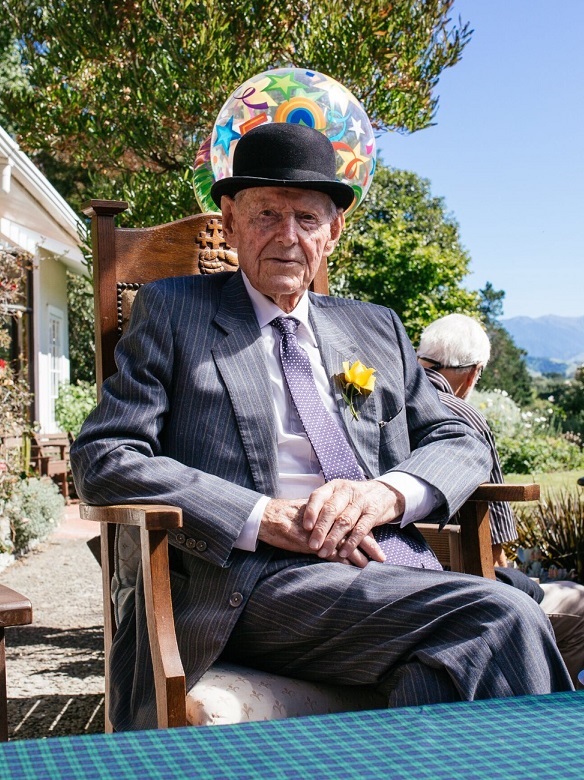 Haddon loves shooting and shooting loves Haddon. Nobody still present in the sport is more respected or honored. He is a Life Member and Patron of his club, Masterton Rifle Club, and his national organisation NRANZ, the National Rifle Association of New Zealand. He is also Vice President of the NRA of Great Britain and of the British Commonwealth Rifle Club at Bisley.
He shot his first National Championships at Trentham in 1935 at the age of 18. His father, Vivian, introduced Haddon early to the Masterton / Opaki Rifle Club which, in his grandfather's day, shot across Solway showgrounds into the bank below where Solway College now stands. In 1877, the poor marker had to hide behind a large Totara tree while the shooters shot at iron targets. In between shots they had to dash out and indicate each shot with a lump of clay. Haddon began at NRA in 1935 and, apart from his distinguished war years, he shot every year until his 90th year - a record no one is likely to match. Individually, he was to reach runner-up in the NRA Grand Aggregate. This was the event he was later to sponsor as Donald Presses Grand Aggregate for about 15 years.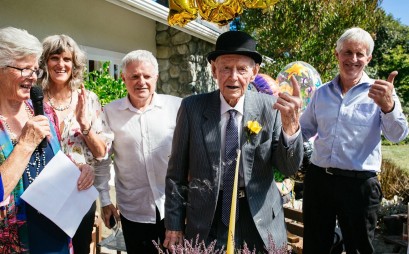 Haddon's love of team shooting shone throughout his career. He led three New Zealand rifle teams to Bisley, UK and Connaught, Canada, in 1953,1960 and 1976. He had already taken Snipers from his company during the war to Bisley to train and they were said to have had the best record in the New Zealand Army. Haddon's 1960 New Zealand team reached the pinnacle of all teams. It won 4 team shoots and were 2nd in the other two internationals, often against 10 countries or more. He had the honor of presenting his Kolapore winning team to Her Majesty the Queen and led three cheers in her honor. Individuals from this team won, or were second, in six events. When the team left to go on to Canada, Lord Cottesloe said to Haddon that his was "the finest team ever to shoot at Bisley". Present records show that in the previous 100 years and the 47 years since no team has ever gone close to matching their record. This team is still waiting to be recognised as one of the all-time great sporting teams of NZ. This team after Bisley went on to Canada and similarly won two of the three internationals, won the Governor General's Prize and 11 other matches.
Haddon served as President of NRA from 1969 till 1975 and was elected Life Member in 1975 and Patron in 2009.
Haddon was a very successful long-range shot and when I joined Masterton/Opaki Club his nickname was long-range Donald. I remember him as being very generous with his time helping young shooters gain some of his vast knowledge in judging the wind. I recall Haddon telling us one or two of his war experiences with Hec Russell, Bill Wilton, Dan Vallance and Sandy Robinson when staying in Hawkes Bay for their annual champs over Easter. It created almost as much impression on me as a young shooter as their snoring at night!
KBO. Haddon often said these letters KBO when he set off somewhere. These letters refer to "Keep Buggering On" which Churchill was to teach him to say during WW2 when battles weren't going so well!
Old soldiers never talk much about the war but one who was on Crete with him told us he should have won the VC three times while on Crete.
In 1984 when Haddon brought his Rolls Royce onto the range he let many people drive it. One day Haddon took Dave Caughley and Harvey Ward for a spin up the Opaki straight. Dave, one of Haddon's engineers from the firm, was keen to look under the bonnet only to be told "No! - one does not lift the bonnet of a 'Roller' on the side of the road!" Haddon and Harvey staying at Wallaceville House one NRA woke to find the 'Roller' it missing. But it wasn't too far away. Someone hadn't put the brake on sufficiently and it had rolled across the road and was neatly parked next to Harvey's vehicle.
Also in 1984, Lt.Col Larry Orpen-Smellie brought out a Gt Britain Rifle Team. This team was hosted at Mahunga where we all played tennis, swam, walked, bowled and barbecued. In true Donald style Haddon was the perfect host and I still hear my friends from that team talk about that day.
I took a NZ team to Bisley in 1990 and Haddon and Clarrie Leigh joined us. He took Clarrie up to the Donald homelands in Scotland but back at Bisley he was revered by all. By this stage he was already a Vice-President of NRA of UK and the British Commonwealth Rifle Club. I witnessed him meeting up with Major Norman McCaw who was his opposing captain in the 1960 Kolapore Match.
Back on the farm working for Haddon, as his Vet, I can recall one worrying incident. He rang to say he had 11 dead or dying prime bulls. It turned out they had eaten copper and arsenic from a drum thrown out from a plantation into the paddock by PEP workers. Haddon showed his class by taking this loss all in his stride, typical of the man we know.
Haddon, on behalf of your club mates and other shooters from NZ and around the world we wish you a very happy 'double possible' birthday. You have been an inspiration to us all and we are grateful.
John McLaren.